Welcome to
(MARS)land
brought to you courtesy of (MARS)cel the R&Beast aka. Marcel of 2 Much...
(MARS)land is the place where I'm gonna keep you guyz updated on not just me, (MARS)cel and whatever work I'm getting into like right now that includes the updates on the mixtape I'm working on called 'R&Beast' , but everything like 2 Much,
the music that I find interesting, and life just period but first I'd like to start ya
ll off right by deeming it a requirement that if you are going to be visiting (MARS)land that you add this music myspace page!: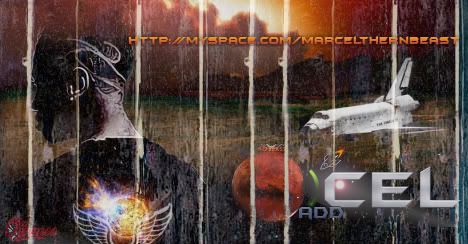 Check out the new track's I just uploaded on there:
Titanium - (MARS)cel feat. Kel
Titanium - (MARS)cel feat. Young Myles
These were still done in GarageBand cuz I'm still just picking the tracks and writing to them but when R&Beast is released I will have written it all, and every song will have been studio recorded so keep it posted fo
r that!
, I thought I would share some of the influences I've drawn while sitting
up and writing all the lyrics and style idea's I've picked up for R&Beast and my current music selection's that have influenced the direction I'm taking the mixtape. R&Beast will be of course R&B singing mixtape but It's very much incorporating a hip hop edge and style to it.
DJ Quik
is one of my favorite's right now and his joints have influenced alot of the writing I've been doing lately and his records are on repeat in my whip.
His energetic and rapid situation telling flow style along with the beat's he does I find interesting and I've actually written to 2 of his tracks I had of his, but the one I'm on right now is his latest, "Trauma." so Check
out some of these song's off "Trauma", The song I did called "Lockdown" is actu
ally to the "Black Mercedes" track:
Black Mercedes - DJ Quik feat. Nate Dogg
T-Pain ft. Ludacris - Chopped & Screwed
I've also done and intro video so check it out!:



Enjoy! Check back Later for more!